NEWS
Economic Development Aurthority of Western Nevada Announcement June 16, 2017
---
RENO, Nev. (June 16, 2017) – The Economic Development Authority of Western Nevada (EDAWN) announced today that Geofortis Pozzolans is opening a state of the art cementitious material, mineral processing facility in Reno, Nevada. Development of the 30,000 sf facility is expected to commence in August with processing operations to start by April 2018. The company plans to hire more than 200 employees by end of Year 5 and will be investing upwards of $20 million in capital expenditures. Geofortis also received incentives from the Governor's Office of Economic Development. The new Geofortis operation will have specialized milling, mixing, and handling equipment in its processing plant to produce supplementary cementitious material, including natural pozzolan blended with other products. Geofortis uses a natural pozzolan formed by volcanic ash deposited over thousands of years in a fresh water lake populated by diatomaceous algae (Northern California). This material has the potential to solve many of the technical challenges facing the concrete industry that are related to concrete quality, integrity, color and greenhouse emissions. As far back as 126 A.D. natural pozzolans were used in ancient structures like the Pantheon in Rome, Italy. Geofortis' natural pozzolan has been successfully used in projects such as the Auburn Dam, Los Melones Dam, Palos Verdes nuclear power plant and the Trans-Canada Highway. "We're very excited to begin building and production at our Reno site and becoming part of the Nevada business community. The favorable local factors including skilled labor, favorable energy rates, and the positive business initiatives of government authorities were a major factor in choosing the area," said Tim Alford, Geofortis VP Finance. "We see eye-to-eye with the pro-growth spirit and owe a great deal of gratitude to the folks at EDAWN, particularly Stan Thomas, and the Governor's Office of Economic Development." Georfortis will soon commence hiring to fill positions in construction, truck drivers, equipment operators, plant managers, foremen, QA/QC, marketing/sales and administration staff. "I'm thrilled to welcome Geofortis Pozzolans to Reno from California," said Reno Mayor Hillary Schieve. "Not only will they enjoy the great quality of life and sense of community we have here in Reno, but I think they'll really appreciate our efficient and friendly business environment." "The demand for cement and concrete materials is expected to grow as experts are forecasting 7% annually to $4 billion in 2020 and regionally, the demand is at record levels. Geofortis Pozzolans is well positioned in the market to address the growing demand for its products with the addition of its new Reno facility coming online soon," said Mike Kazmierski, President and CEO of EDAWN. About EDAWN The Economic Development Authority of Western Nevada is a private/public partnership established in 1983. They are committed to adding quality jobs to the region by recruiting new companies, supporting the success of existing companies, and assisting newly forming companies, to diversify the economy and have a positive impact on the quality of life in Greater Reno-Sparks. For more information, www.edawn.org. Contact: Norma Yamaji
EDAWN, Program Manager, Business Development
775.829.3768, yamaji@edawn.org
---
Geofortis Completes Full Scale Demonstration with UC Davis February 17, 2017
---
Reno, NV. February 17, 2017 – Geofortis Pozzolans announced the completion of a successful demonstration of its latest Supplementary Cementitious Material (SCM) product in conjunction with the UC Davis Department of Civil Engineering. This product, a blend of LasseniteTM natural pozzolan and other materials, improves the performance and reduces the cost of concrete. Concrete was batched by Syar Materials at its Rio Linda plant and transported by ready mix truck to the UC campus. A demonstration slab was poured and finished under the supervision of Geofortis' Mike Donovan and UC Davis lab staff. QC testing was performed by a third party engineering firm. The demonstration allowed attendees, which included prospective customers, specifying engineers, and representatives from CalTrans, to view the material and interact with the concrete contractor. A presentation about the SCM product and current specification requirements was also provided. A video showing highlights of the event and comments from the finisher are available by clicking ---
Mike Donovan Joins Geofortis April 13, 2015
---
MORAGA, Calif., April 13, 2015 /PRNewswire/ — Geofortis www.geofortis.com today
announced that Mike Donovan, formerly the Director of Quality Assurance and Research for Central Concrete, has joined Geofortis Natural Pozzolans as President, reporting directly to the Geofortis Natural Pozzolan's Board of Directors. This news comes as the ACI Concrete Convention in Kansas City kicks off www.concrete.org and coincides with Geofortis's name change from Cal Minerals to Geofortis, reflecting the company's broader natural pozzolan commitment. http://en.wikipedia.org/wiki/Pozzolan "I am thrilled that Mike Donovan has joined our team," said Mickael Flaa, Chairman of the Geofortis Board of Directors. "He brings a wealth of experience and knowledge about the concrete industry to our company. He also shares our values and our focus on providing innovative geopolymer products and services to the concrete industry. Mike has shown himself to be an extraordinary leader throughout his career and has a proven track record. " Donovan will have overall responsibility for the strategic direction, expansion and operation of Geofortis Natural Pozzolans, which will be supplying a proven high performance natural pozzolan to the concrete industry. Mike Donovan and Geofortis will be attending the ACI Concrete Convention in Kansas City starting April 13th and we look forward to seeing you there. (More information on ACI can be found at www.concrete.org)) About Geofortis:
Geofortis (www.geofortis.com) is a diversified geopolymer technology and manufacturing company focused on serving customers in the western United States seeking natural pozzolan products and services. Based in Moraga, CA., Geofortis is a privately held company. For more news and information on Geofortis, please visit www.geofortis.com.
---
Geofortis Completes Geologic Investigation of Utah Pozzolan Deposit January 2019
---
Geofortis has completed Phase 2 of our geologic investigation, including 18 sonic core borings totalling 800 feet, in a portion of our Utah holdings. The cores yielded samples for testing Pozzolanic Properties (ASTM C618), as well as ASR mitigation (ASTM C1567). Results were all positive, demonstrating that the material is available in economically viable quantities and performs very well as a concrete SCM.
---
Geofortis Completes Full Scale Utah Pozzolan Demonstration March 2019
---
Geofortis completed a full ready mix truck scale demonstration pour using our Utah pozzolan source. The demonstration project was observed by Geofortis investors and prospective customers. Finishing properties and set times were superior to the customer's standard mix design, which was placed immediately adjacent to the demonstration slab.
---
Utah DOT approves Geofortis Pozzolan product.
---
March 16, 2020 Utah's Department of Transportation has prequalified Geofortis' Utah natural pozzolan for use in concrete. This approval comes after independent testing in State and AASHTO-approved laboratories.
---
Geofortis Acquires New Plant Site for Utah Market
---
May 18, 2020. Geofortis Utah LLC announced that it has completed the purchase of a 6.8 acre site in the Peterson Industrial Depot in Tooele Utah for development of a new pozzolan processing facility. Construction will begin in summer 2020 and the plant is expected to begin operations in May 2021.
---
Geofortis Completes Additional Geologic Investigation of Utah Deposit
---
January 15, 2020 Geofortis completed additional drilling and testing of the natural pozzolan deposit in Tooele County Utah in November 2019. The investigation included 21 borings and approximately 1,500 feet of core, followed by extensive testing for chemical and physidal properties. The investigation provided high confidence in the benficial properties of the pozzolan and volume of material available to be economically mined.
---
Geofortis begins construction of Utah Pozzolan Plant August 30, 2020.
---
Geofortis has begun construction of our natural pozzolan plant in Tooele Utah. The source of the material is a fine volcanic ash deposit located in Tooele County. The plant is projected to be in full production by June 2021.
---
Alan Gee joins Geofortis November 1, 2020.
---
Alan Gee, a veteran executive in the cement industry, joined Geofortis as Director of Operations. Alan has 25 years of experience in the global cement and materials industry, including roles at Eagle Materials, Lehigh Hanson, and Holcim. He is active in the Portland Cement Association, ASTM, International Cement Chemistry Congress and ICMA. Alan will be responsible for operations at Geofortis' and start-up/commissioning of the new pozzolan plant in Tooele Utah.
---
---
VIDEO LIBRARY
Introduction to a Series of Interviews and Discussions on the Use of Natural Pozzolans in the Concrete Industry
---
Series Introduction – Experts discuss the potential of natural pozzolans to address issues of the concrete industry. ---
Dr. Michael Thomas discusses the use of pozzolans in the concrete and cement Industry past, present, and future
---
An interview with Dr. Micheael Thomas on The Use of Natural Pozzolans in the Past, Present and Future ---
Dr. Doug Hooton provides his insights into pozzolans past, present and future.
--- ---
Dr. Marie Jackson on Natural Pozzolans In the Past and Future
--- ---
Geofortis Mine, Processing and Research Lab Overview
--- ---
Video on the Pantheon, built with pozzolanic concrete in 125 AD. (Skip to 3:45 minutes if impatient)
---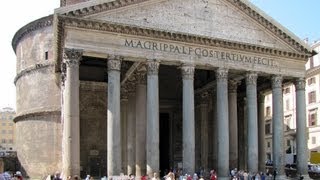 ---
---